The Junk Recycler warmly welcomes residents and commercial businesses of Stamford, Connecticut  to our junk removal website.
The Junk Recycler is a full service Junk Removal Company serving Stamford, CT. We focus on optimizing recycling and donating within the junk removal process. Our service includes the hauling of appliances, furniture, E-Waste and much, much more. We maintain Sustainability while providing excellent customer service and these are our foremost priorities.
We gain satisfaction by creating satisfied customers, happy vendors,  and the knowledge that we are 'Saving The Planet One load At A Time' by recycling and donating your items to those in need.
Please call us on 1 855 586 5463 for further information or if you're ready for your clearance you can Book Online Now.
Residential and Commercial Junk Removal & Hauling in Stamford, CT.
We do all the loading
Professional and polite staff
Free estimates
Recycling
Donations
Modern Eco friendly Trucks
Fully licensed and insured
The Junk Recycler offers top quality service at outstanding value. Compare and you'll see our prices are significantly less than our junk removal competitors. Find out more about our Junk Removal and Hauling pricing for Stamford, CT. We are also offering great discounts, so please have a look at Available Coupons.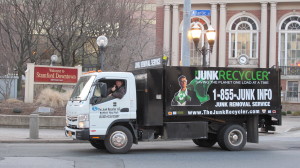 We look forward to providing you with our junk removal & hauling services.